---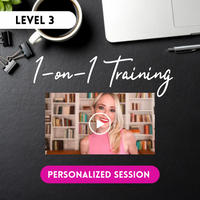 Want specific questions answered?
Need to FaceTime your staging area and want tips?
Need some helpful hints that are specific to your brand?
Elaine is here to help! Pay-as-you-go 1-hour training sessions allow you to get the training you need to make decisions about your business. 
FINAL SALE & VINTAGE ITEM & LOCATION NOTICE
When checking out, please note that pickups are in the 78641 (Leander) area code. Delivery is available for a fee.
CHOSE LOCAL PICKUP EVEN WHEN COORDINATING DELIVERY!
As for all vintage items, wear is expected to be consistent with age so not every single flaw is shown in photos. Significant flaws are photographed. You are expected to view item before purchasing to ensure you are happy with purchase. Full-disclosure videos are available, just DM me on Instagram so I can FaceTime or send a video. Please purchase with this in mind as refunds are not given. All sales are final.